Best Location to Watch 4th of July Fireworks
Whatever you may think about the current state of affairs in America, it's time to don your red, white, and blue and celebrate the land of the free.
Love a good fireworks show? Here's what's booming in the Bay Area.
(If you're kind of over the whole fighting-the-crowd-to-see-yet-another-fireworks-show-in-the-fog thing, here are some less expected ways to celebrate the Fourth—think hot-dog-eating contest, bar crawl, beach tug-of-war and more.)
San Francisco
Fireworks Cruise: Onboard the Blue & Gold Fleet you'll find music, dancing, booze, and front-row seats to the fireworks over the Bay. Sailings from Pier 39 begin at 8:30pm, Pier 41 at 8:40 and from Tiburon at 8:30 pm. // blueandgoldfleet.com
Fisherman's Wharf: For the classic crowded touristy vibe, park yourself in Aquatic Park, Pier 39, or Ghirardelli Square for viewing the 9:30pm show. Oh, and Tainted Love will perform their Best of the 80's Live! Pier 39. // fishermanswharf.org
Angel Island and Treasure Island: If you feel brave enough to battle the bridge traffic, the panoramic views of the fireworks from Treasure Island are worth it. Or, put yourself on a ferry early in the day and head to Angel Island for more Insta-worthy lookout spots.
Bernal Heights Park, Twin Peaks, Tank Hill, and Coit Tower: As long as the fog doesn't roll in, finding a hilltop view of the fireworks is one way to avoid the Fisherman's Wharf mosh pit.
East Bay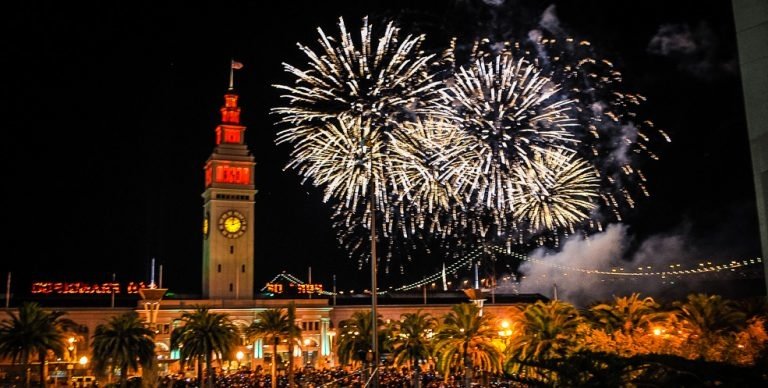 (Courtesy of SF Cruises)
South Bay
Marin
Sausalito: Trek all over Sausalito with a morning parade, and enjoy a picnic and games in Dunphy Park in the afternoon. Live music (6:30pm) will be followed by a solid half-hour of fireworks at Gabrielson Park (9pm). // sausalito.gov
Marin County Fair: If one day to celebrate our nation's independence isn't enough, head to the Marin County Fair as early as June 30 for their five-day festival with—yes—fireworks every night. You're bound to witness a spectacular show of elaborate lights and colors. // 10 Avenue of the Flags (San Rafael), marinfair.org
Petaluma: Starting at 5pm, listen to music from brands curated by the Petaluma Music Festival, nosh on tasty eats from local vendors, and then catch fireworks around 9pm. // Sonoma-Marin Fairgrounds & Event Center, 175 Fairgrounds Dr. (Petaluma), visitpetaluma.com
By Michail Luke and Jen Woo
(http://www.7x7.com/fireworks-fourth-of-july-bay-area-2442367642.html#)