Economic Factors and Trends in Housing Market
Economic Factors and Trends
in the Bay Area Housing Market
There is a staggering number of economic, political, social and even ecological factors constantly at play - locally, nationally and  internationally - which can impact the Bay Area economy and housing market. These include new wealth creation, home prices and affordability, interest rates, stock markets, employment and hiring, changes in population, migration trends, wage growth, new home construction, consumer confidence, venture capital investment, politics, household debt, tax law changes, high-tech booms and many others. This collection of charts reviews current trends and past cycles for a number of them.
Different analysts and economists often draw widely varying conclusions from this data. We provide it simply for your own consideration.
Home Prices:
The Most Expensive 
Housing Market in the Country
3 Angles on Home Price Appreciation
This next chart is a very simplified graph measuring percentage home-price changes, per the CoreLogic S&P Case-Shiller Index, bottom to top to bottom of recent market cycles. This looks at homes in the upper third of sales by price, but still covers dozens of different markets around the Bay Area, with their own specific dynamics. Note that percentage increases and decreases are not created equal: For example, if a market dropped by 50% during the subprime foreclosure crash (as some did, in lower price segments), the market had to go back up by 100% to get back where it started from.
Since the high-tech boom and general economic recovery began 6-7 years ago, home price appreciation in the Bay Area (red line) has far outpaced that in the country as a whole (green line). This chart, based on the Case-Shiller Index, compares the overall Bay Area market (all price segments) with the overall national market.
Active Listings on Market - Dropping
Population Migration Trends
In the last couple years, the number of people leaving the Bay Area for other areas within the U.S. has outnumbered the number moving in from other U.S. locations, however that negative domestic migration trend has been outweighed by the large number of people relocating to the Bay Area from other countries (foreign migration) - and population growth overall since 2010 has been enormous. It remains to be seen how these trends play out in coming years, with increasing housing costs, as well as new issues such as federal tax law changes and federal anti-immigration policies having come into play.
There are a number of issues that may be impacting domestic migration trends (as seen in the chart above) such as high housing costs and increasing commute times (and other quality of life issues), but another factor - which has grown in its significance due to federal tax law changes - is state income tax rates. People leaving CA are heading to no-tax or low-tax states in the greatest numbers.
Population & Employment Growth
Since 2011, the Bay Area has experienced one of the great employment surges of all time.
Venture Capital Investment, High-Tech Jobs,
Initial Public Offerings
One of the greatest creators of new wealth in the Bay Area has been the boom in high-tech, bio-tech and fin-tech start ups, which has created literally thousands of new millionaires as these companies go public and stock options increase in value. Right now, there is a staggering flood of venture capital pouring into local start-ups, however VC funding trends can also go into reverse very quickly if economic confidence changes.
One of the classic factors in real estate markets is supply. As population, employment and new wealth creation has soared since 2011 - all considerably increasing demand - the increase in housing units has not kept pace, creating a deeply inadequate supply. The Bay Area is currently in the midst of a housing-construction boom - of both rental and for-sale units - as developers try to take advantage of high demand. As seen below, housing construction is extremely sensitive to economic cycles.
Stock Market Trends: S&P 500
When people feel wealthier, they buy homes or bigger homes. And the staggering increase in the stock market has impacted high-tech stocks more than most, thus making many Bay Area residents feel that much wealthier. However, many analysts believe that there is now a strong element of irrational exuberance in financial markets, which, if so, carries significant economic risks for the future.
One sign of irrational exuberance in the past has been a considerable jump in investors borrowing to buy stock, i.e. "buying on margin." Buying with increasing debt can accelerate potential returns as well as drastically magnify investment risks, as previously seen in the market adjustments following the popping of the dotcom and subprime bubbles.
The economic boom in the Bay Area has certainly not included everyone in its benefits: There are many for whom the only consequence has been rapidly spiraling living costs without any corresponding increase in income or wealth.
The CA Association of Realtors' Housing Affordability Index compares 3 major components: home prices, interest rates and household income to come up with a percentage of households in a given county who can afford to buy a median priced house with a 20% down payment. With affordability percentages close to historic lows, housing affordability may  be the biggest social and political issues in the Bay Area.
The National Association of Realtors, which has its own calculation regarding housing affordability, ranks the Bay Area as having the lowest affordability in the country.
When economists try to evaluate whether home prices are "over-valued," one thing they look at is how home prices compare to rents, i.e. the "rent vs. buy" equation, a calculation which can have many angles: monthly costs after tax benefits, debt load, asset appreciation, "forced savings," wealth creation, and so on. In recent years, the trend lines between median home prices and costs, and rents have been diverging. Part of this is due to a rush of new apartment construction, substantially increasing rental supply. Recent changes in federal tax law and interest rates also impact the renting vs. buying calculation.
As with other economic factors, consumer confidence runs in cycles, with very dramatic ups and downs. Pessimism is bad and hopelessness is terrible for the economy. Confidence is good, but excessive confidence - or irrational exuberance, as it's usually called - is dangerous. Human beings often seem more prone to bouncing between the extremes than finding a rational center.
Interest Rates: Short-Term & Long-Term Trends
Interest rates plunged to historic lows in recent years, to a large degree subsidizing home price increases and boosting the economic recovery. Since 2016, they have started increasing again. It is very difficult to predict interest rate changes with any accuracy, but most analysts believe rates are heading higher. Every increase makes home-ownership more expensive for buyers planning on financing their purchase.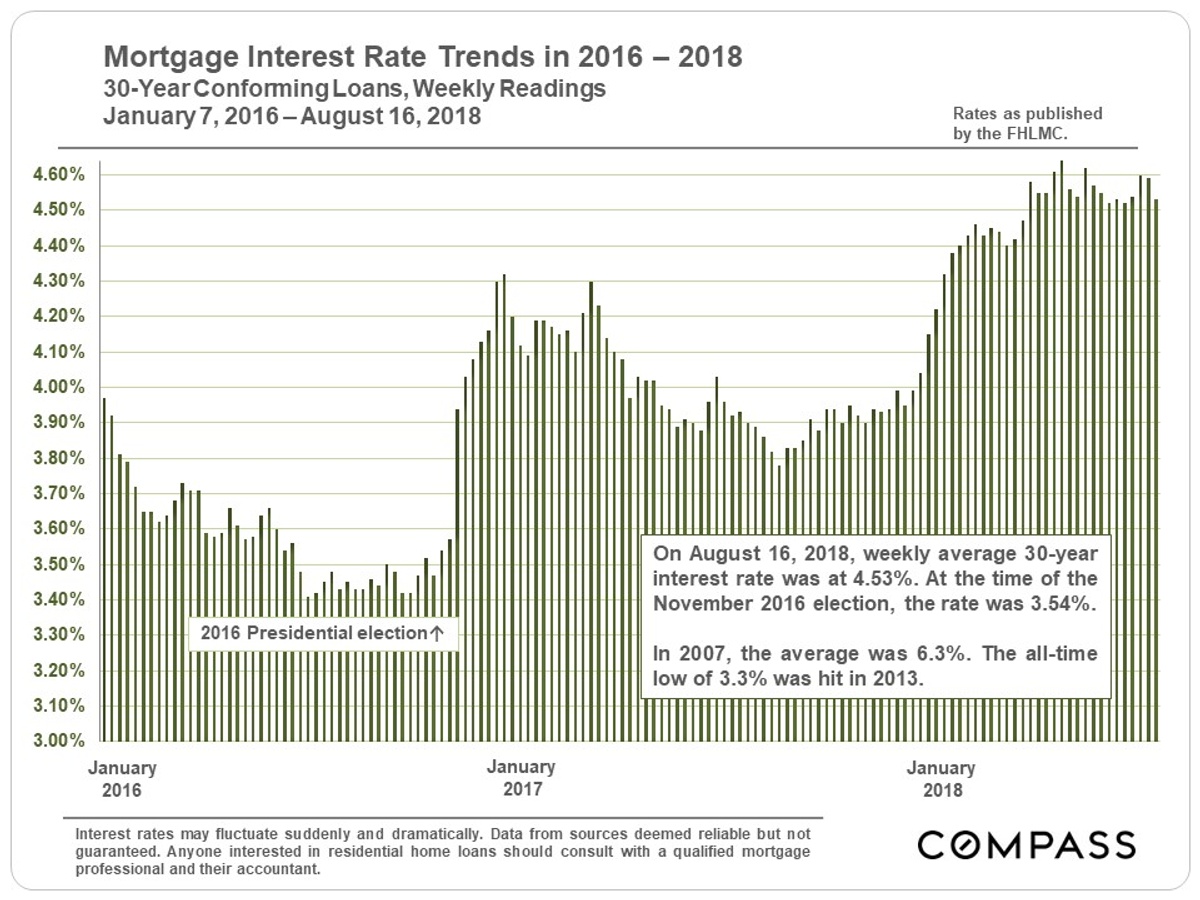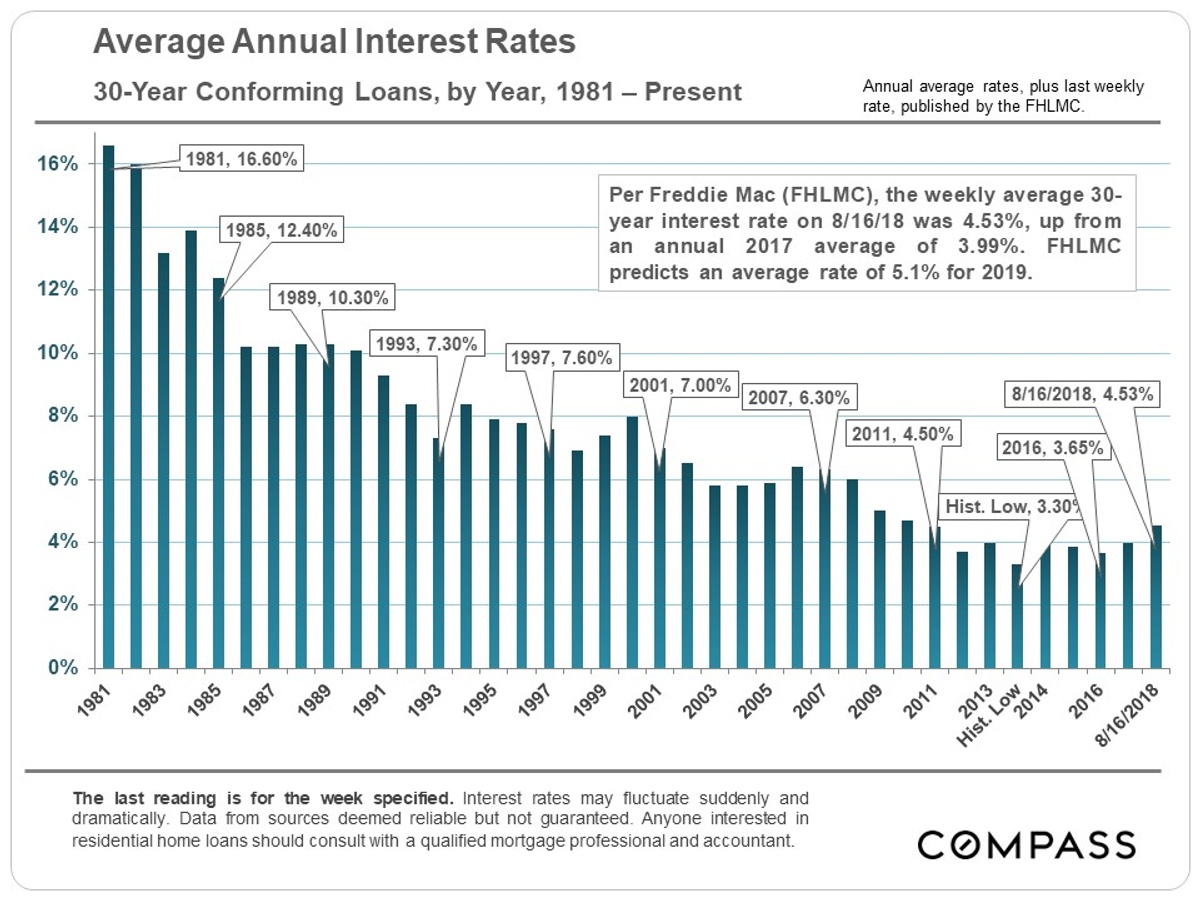 Debt and how it impacts financial cycles is a fascinating and complex subject - which we are not qualified to address. However, there is no doubt that untenable levels of debt have played big roles in some of the major market downturns of the past. In the U.S., debt levels - individual, corporate and governmental - have hit all-time highs, but because of low interest rates, the cost of servicing that debt has remained relatively low. If interest rates increase appreciably, and debt levels continue to grow, it would almost certainly have negative ramifications for economic stability.
One corollary of an appreciating housing market is that homeowners feel wealthier, which can encourage them to take out more debt - a dynamic that did not play out well in 2008. (We are not saying that circumstances today parallel those in 2008. The 2008 crash was abnormal in its scale due to an abandonment of underwriting standards, people taking out loans they could never afford to service, and dishonest financial engineering on a massive scale.) Though total household debt has hit new highs, mortgage debt is still lower than before the 2008 crash.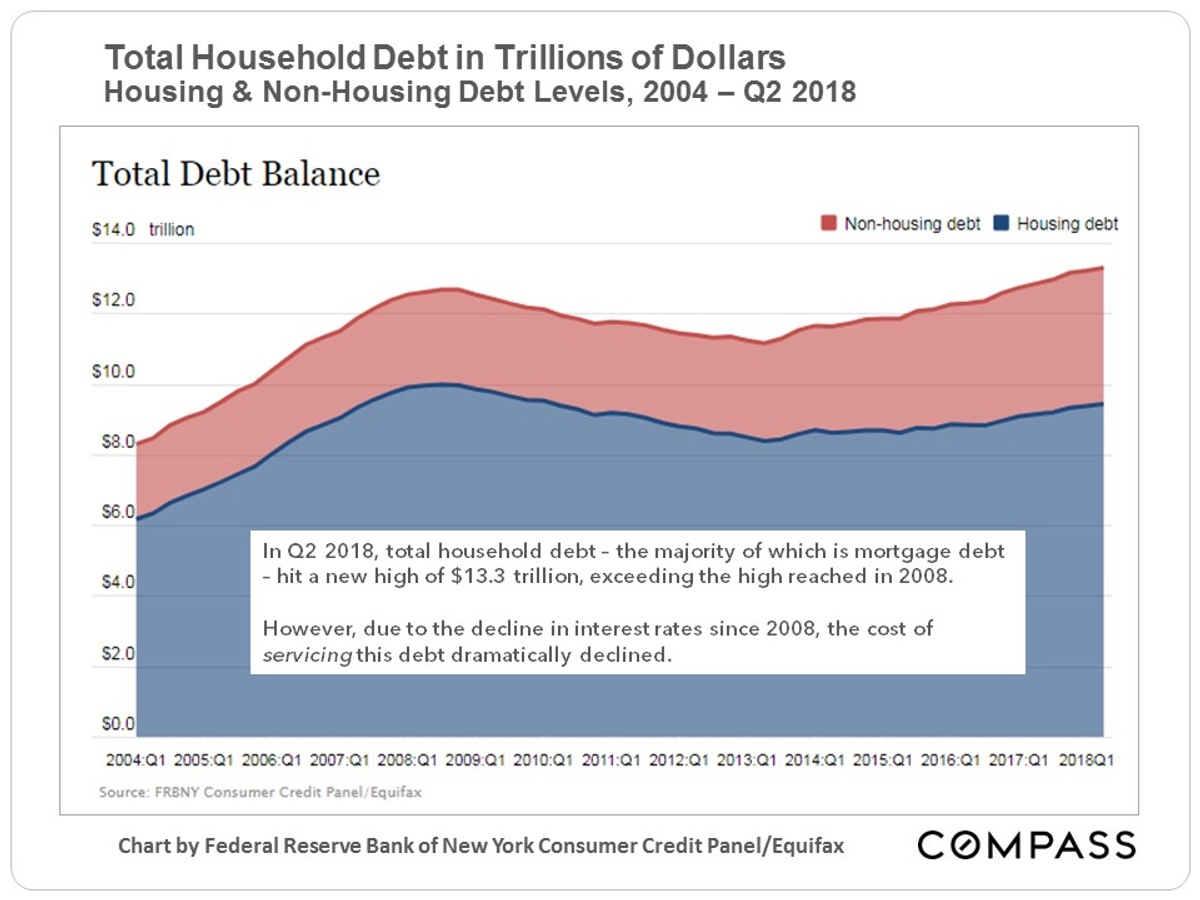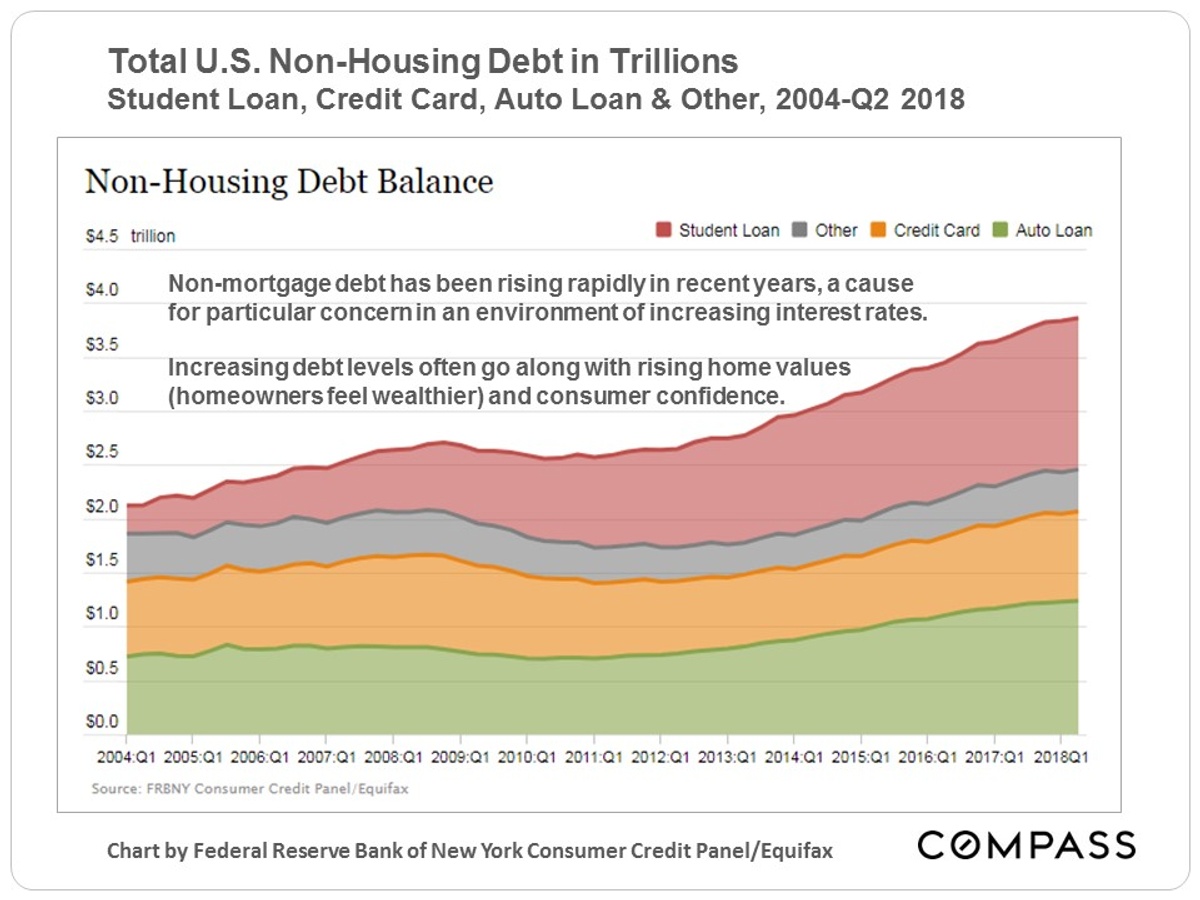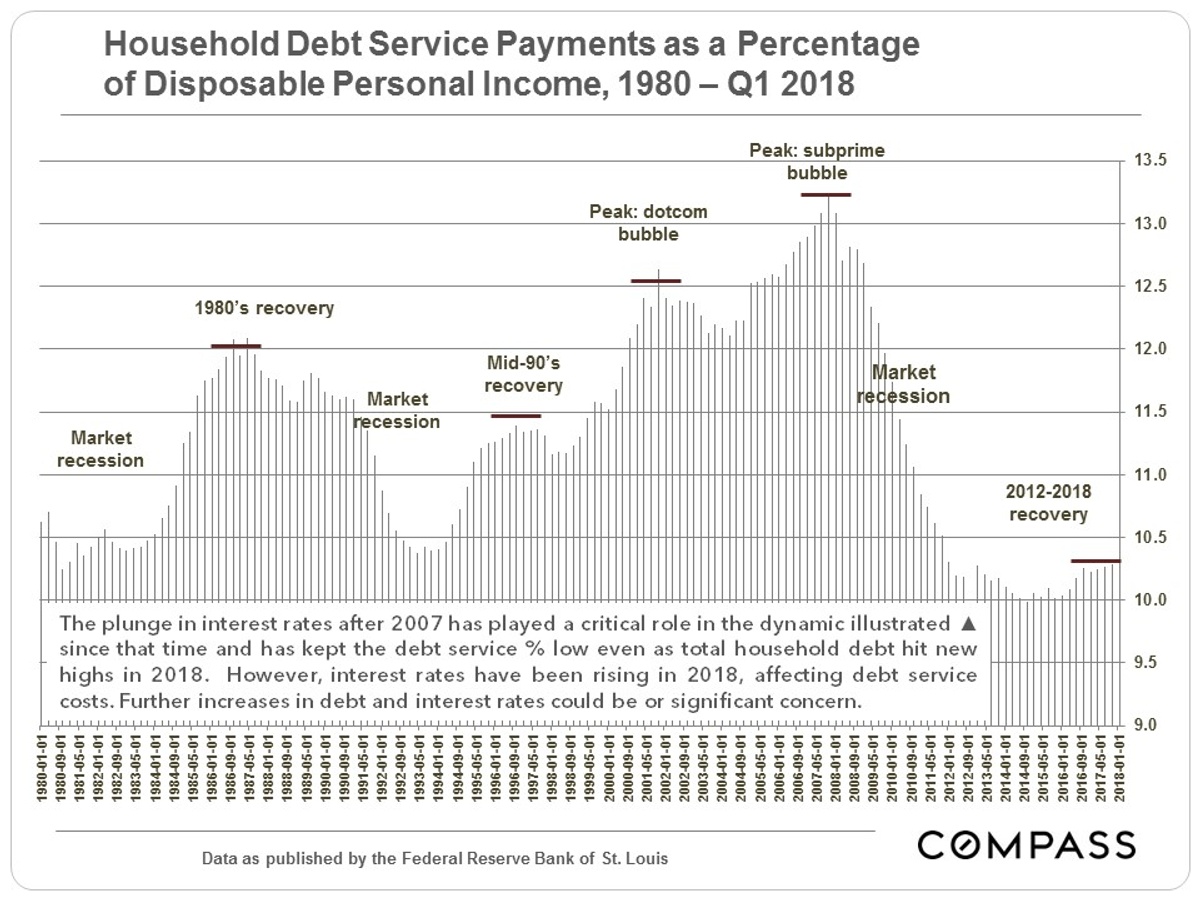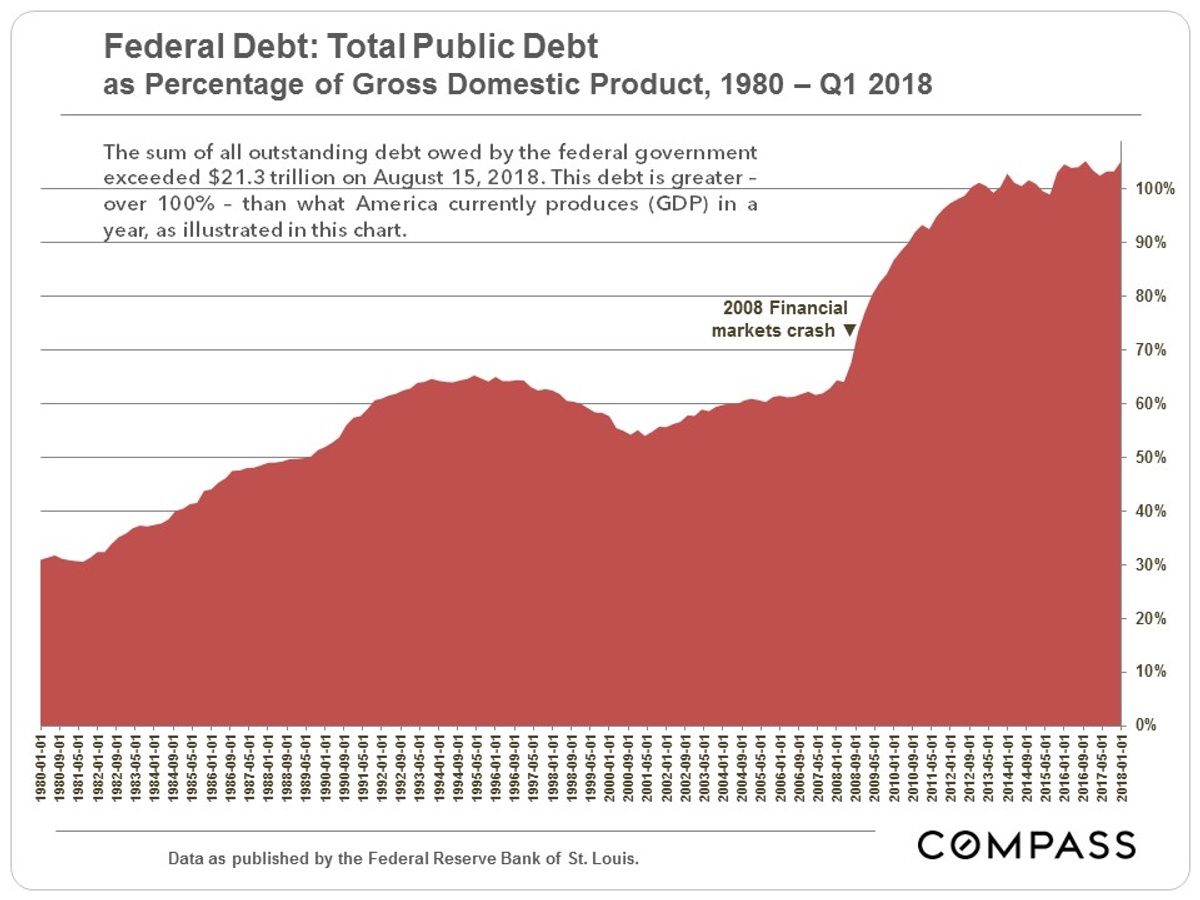 These analyses were made in good faith with data from sources deemed reliable, but may contain errors and are subject to revision. It is not our intent to convince you of a particular position, but to attempt to provide straightforward data and analysis, to help you make your own informed decisions. Shifts in financial cycles are extremely difficult to predict: Booms can go on much longer than expected or get second winds; rational economic confidence and growth can shift into irrational exuberance; local, national or international economic, political and environmental events can erupt suddenly to cause major economic dislocation. Though highly experienced in Bay Area real estate markets, we are not economists, nor can we predict the future.
© Compass 2018 ¦ All Rights Reserved by Compass ¦ Made in NYC
Compass is a licensed real estate broker (01991628) in the State of California and abides by Equal Housing Opportunity laws. All material presented herein is intended for informational purposes only. Information is compiled from sources deemed reliable but is subject to errors, omissions, changes in price, condition, sale, or withdraw without notice. No statement is made as to accuracy of any description. All measurements and square footages are approximate. Exact dimensions can be obtained by retaining the services of an architect or engineer. This is not intended to solicit property already listed